The NXT Seating Series provides a range of wheelchair back support models, as well as wheelchair cushions. NXT Back supports offer pelvic or thoracic shapes having posterior, posterior lateral and posterior deep lateral supports The full or scapula cut-out shapes are designed to provide excellent support and comfort while enhancing the user's natural range of motion. The QuickFit™ Hardware is fully adjustable and the pelvic positioning pads provide optimal positioning of the pelvis for exceptional comfort and support.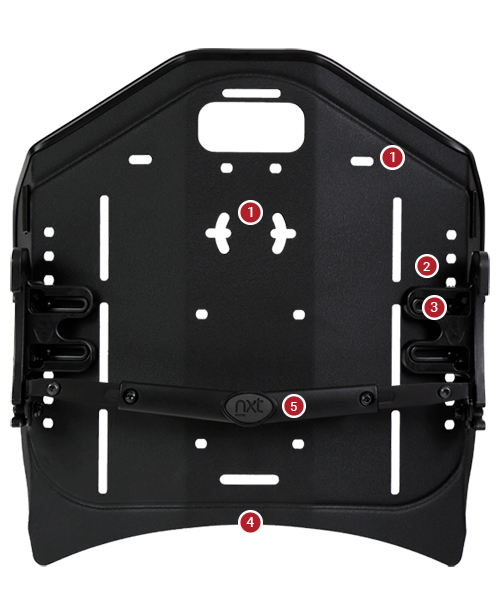 NXT BACK SUPPORTS – The Most Adjustable Back Supports on the Market Today.
Slotted holes to allow for installation of most aftermarket head supports, headrests, belts, and harnesses
Alternate mounting heights, allow hardware to be installed at optional heights to achieve a proper set-up
Width adjustment, mounting hardware has 2" (5.1cm) of width adjustability increasing the size of a chair that each back can be used on [i.e. a 16" (40.6cm) wide back will fit a 16, 17, or 18" (40.6, 43.2, or 45.7cm) wide chair]
Pelvic cut-out for optimal pelvic positioning and support of the P.S.I.S.
One-Hand Quick Release allows for the back to be removed from the chair with ease
Stability, Symmetry & Shoulder Freedom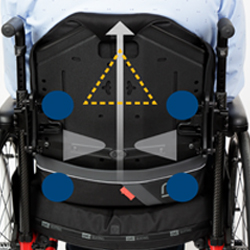 NXT Back Supports, support the spinal column within the "Scapula Triangle" which improves shoulder freedom and head control. They also provide support to the side of the pelvis and thorax to stabilize the entire spinal column.
Bottom Edge Pelvic Cut-Out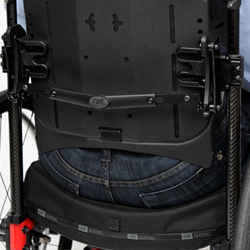 Allows the bottom edge of the back support to rest in the PSIS area. This provides a space for the buttocks to protrude beyond the back for a better, more natural seated position
smartGEL™ Visco Foam

smartGEL is a Visco Elastic foam that is infused with gel. It is incredibly soft, highly resilient, and long-lasting. The gel is incorporated into the foam mixture at the molecular level, which allows for 100% homogeneous cooling with no breakdown of embedded gel beads.
Customizable Lateral Contour

Lateral contours can be bent in or out for better postural control and a customized fit.
One-Hand Quick Release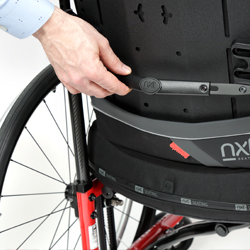 The NXT unique One-Hand Quick Release feature, allows for the back to be easily removed from the chair – with just one hand!
Low Pivot Point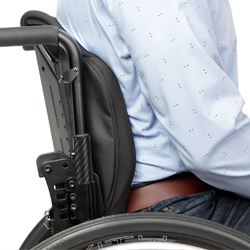 The mounting hardware attachment points have a low pivot point designed to pivot around the pelvis. This allows you to support the pelvis while adjusting recline and reduces the movement of the pelvis affected by angle adjustment of the hardware.
smartx3D™ Fabric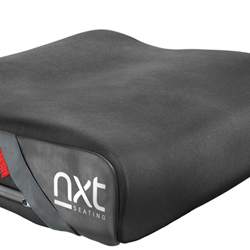 Unlike two-dimensional fabrics, smartx3D uses a three-layer technology that includes two separate fabrics joined by a monofilament yarn that creates a breathable channel between the two fabrics. It is this channel that gives smartx3D its 3D structure and creating a "micro-climate" between layers.